Having the right suppliers is key for business success. For businesses that have global supply chains, working with reliable, high-quality suppliers can help them grow at scale. If a supplier isn't reliable or doesn't provide high quality products, you will struggle to deliver goods that meets your customer expectations. So how do you find a supplier who can deliver and whom you can trust? This guide will run through a couple of things to keep in mind when shortlisting suppliers and finally selecting one for your business.
Manufacturers & Wholesalers

: Understanding the Difference
Below we have explained the two key types of suppliers. Whether its a manufacturer or wholesaler, you need to understand the difference between them and find a supplier that best suits your business needs.
Manufacturers – Manufacturers make products from the scratch. Direct relationships with manufacturers should be every company's ultimate goal. Getting product directly from the factory would be affordable and remove all middlemen from the process. Companies that have made the switch from buying from wholesalers to working directly with manufacturers have

 saved significantly on their cost of supplies

Wholesalers –

A distributor or wholesaler is a company that works closely with the manufacturers. They buy large quantities of a product and re-sell it to the retailers at a slightly higher price to make a bit of profit for themselves. They are a manufacturers direct point of contact for buyers of their products
A Systematic 6-Step Process of Selecting the Right Supplier
Step 1: Build a List of Potential Suppliers – You may already be aware of a few suppliers in the market from whom you can source your product but do you know all of them? Getting to know all the potential suppliers that offer what you need will help you make better decision in selecting the right supplier. Trademo makes it super easy to search for your product-related suppliers and build a potential suppliers list.
Trademo is a SaaS company offering supply chain management and manufacturing software solutions globally. It has records of more than 50 million US Imports Shipments and 1 million global buyers and suppliers. We gather global trade data from relevant authorities and transform messy shipment records into searchable one. With an easy-to-use interface, our product – Trademo Intel – enables analyzing millions of shipment transactions within seconds. This means that you can find high-quality suppliers and get complete visibility in to their business activities.
To see this in action, you can sign up on Trademo Intel for a free trial or request for a demo. After you sign in, simply type in your product related keyword to get a list of potential overseas suppliers of your product.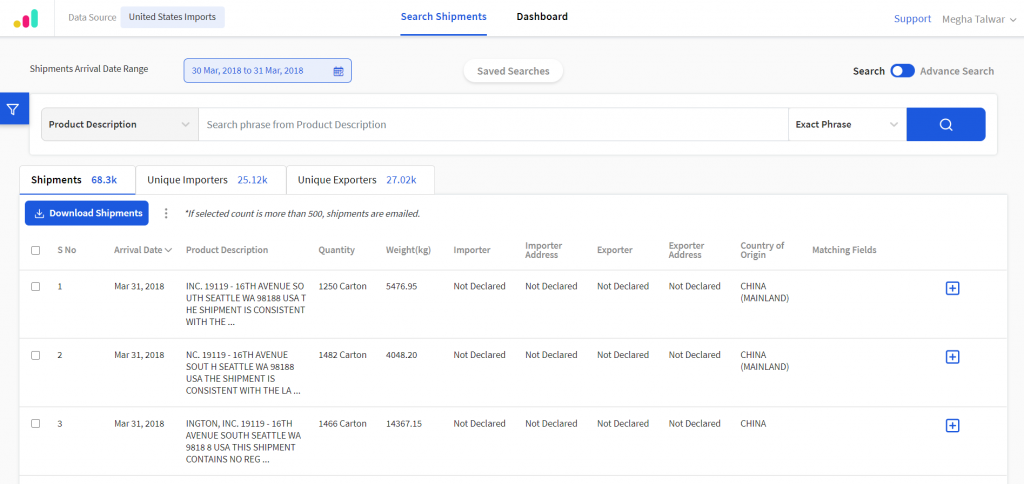 While browsing through the list of suppliers, make sure you check:
Specifications of Product supplied by them
Proximity(with respect to your country)
The region they supply to the most
Business volume
Another way of searching for suppliers using Trademo Intel could be to search shipments of your competitors and filter them basis country of origin, business volume of suppliers, product specifications etc.
Now if you want to dive deeper and get access to the complete data, subscribe to one of the paid plans on Trademo.
Once you have found a list of suppliers of your product including the ones your competitors source from, Trademo allows you to export the entire "prospect suppliers" list to an excel file for you to analyse them further and share it with your team.
Now that you have the list, initiate contact with the suppliers and explain them your needs.
Step 2: Gather Details from Suppliers – If you think the supplier is good enough and has quality products, then you can gather further information from him. The information should include:
A rough idea of the cost of the product/raw material required to decide if it will be feasible for your

business

Product specification
Companies they have worked with in the past
Average TAT for delivering product/services
Make sure the supplier has a good rating and has been trading for sometime, without any issues
Step 3: Check Certifications – Many buyers have requirements when it comes to supplier or product quality certifications. However, suppliers do not always make it easy to view and verify their certifications. Identify suppliers that are certified to your quality standards. Some of the most common quality standards that you should check but not limit to are ISO (International Organization for Standardization or ANSI (American National Standards Institute), QS 9000 etc.
Step 4: Reliability & Stability – A reliable supplier who maintains quality and can give you a competitive edge. Check the number of years the supplier has been in business. You can also hire a third party to check/verify if the company is reliable, their financial strength, their vendors and other companies they are connected with.
Step 4: Ask for Samples – Ask supplier to send samples to analyze the quality of the product. For instance, if you want a packaging box for your product, you would want to place your product in the package and check if it would be able to carry its weight while being transported.
Step 6: Negotiate & Create a Contract – After you are satisfied with all the above pointers, you can start negotiations with which you think is the top supplier in your list and let others remain in the list of potentials. If it all goes well, execute the required documentation and agreements between your company and the supplier. Some relevant agreements used for international sourcing are:
Purchase Order (contract)

NDA (Non-Disclosure Agreement or the Confidentiality Agreement)

Product Supply Agreement
You may involve a lawyer, if the documentation is complex.
Only after you have completed and signed the agreements is when you should start working with the supplier.
Conclusion
When you strategically think about each supplier and properly examine all your options, you will set your business up for success. Using Trademo's extensive database, you can find and evaluate manufacturers and wholesaler suppliers. To create a supplier network that is reliable and aligned with your business objectives, utilize these 6 above-mentioned pointers. To know more about Trademo Intel and how shipment data can help your business,