Ports across the globe handle more than 80% of the global merchandise trade in volume and more than two-thirds of their value. Many rules and regulations have been defined by trade organizations for importers, exporters, and the customs offices to streamline the inflow and outflow of goods. These include having an authentic import-export license, complying with Foreign Trade development and regulations, filling the right import/export documents, and so on. 
For those planning to import goods from a foreign country, there are some basic concepts that you must get familiar with. One of them is posting a customs or import bond.   
What is a custom's bond?
A customs bond is a legal contract or an insurance policy (when simply put) that assures the concerned authorities all import duties and taxes are or will be duly paid by the importer for the goods imported into the country. Ideally, the contract is signed between three parties – the customs, the importer, and the surety. 
Why do you need a customs bond?
A customs bond becomes necessary in the following circumstances:
If you're importing goods in your country for commercial reasons that value more than $2,500
If you're importing goods that are subject to other federal agencies requirements such as firearms or food, etc.
If you're an international carrier agency that transports cargo or passengers from one country to another, especially to the U.S. 
Warehouses that store imported or exported goods
Customs brokers that help importers through the customs process 
Besides these, It's an essential document needed even when you're transporting goods from one state to another, especially in the U.S. The bond covers all goods entering the country via air or sea routes.
What are the steps to get a customs bond?
Typically, there are ways to obtain a customs bond. 
By approaching the international freight forwarder
Through a well-known and established customs broker who the country has licensed. 
Of the two methods, reaching out to a customs broker is an easier option to obtain a customs bond. They're aware of the entire process and well-versed in handling all the related paperwork and documentation. 
On the other hand, if you're keen on obtaining the bond on your own, you can purchase one from a surety licensed by the federal government. In the U.S., for example, you can get a customs bond from the U.S. Treasury Department.
What is the format of a customs bond?
Let's take the example of the U.S. customs bond to understand the basic format of this legal document.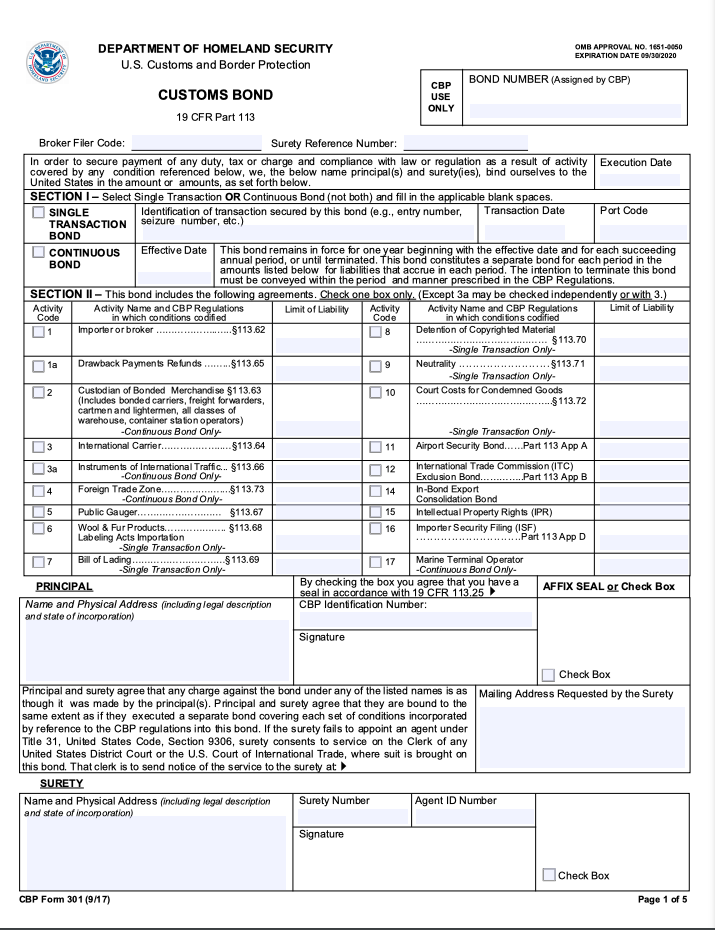 As you can see, a customs bond is a comprehensively defined document that asks for many necessary information. Some of them are as follows:
Name and address of the applicant 
Select the type of customs bond you wish to apply for – single entry bond or continuous customs bond
Specify of you're an importer or a broker
Details regarding international carrier, foreign trade zone, public gauger, bill of lading, court costs for condemned goods, airport security bond, etc. 
CBP identification number
Mailing address requested by the surety
Surety number 
Agent ID number
Why is it important to have a customs bond?
A customs bond plays a significant role in streamlining the entire consignment procurement and processing system. It ensures faster customs clearance and guarantees the authorities that payment of any additional import duties, taxes, or fees will or have been duly paid. Such assurance enables the port authorities to clear the shipment without waiting for an importer to make payment(s). The surety company involved in the process clears all the dues with the authorities post which the importer reimburses the specified amount to the surety.
To conclude, having the right customs bond along with other necessary import documents in your arsenal can help streamline the entire customs clearance process and your business's import activities. To know more about customs bonds and which one would best suit your business needs, contact your country's federal customs department.
Frequently asked questions
1. How does a custom bond work?
A customs bond acts as a document of surety guaranteeing the customs authorities that all additional duties, taxes, and fees will be paid immediately, if any, to ensure a smooth and faster customs clearance. The surety pays the additional charges at the site of port. This amount is then reimbursed to the surety by the importer at a later stage. 
2. How do you get a custom bond?
You can get a customs bond either from a government licensed customs broker or by approaching the international freight forwarder.
3. What are the types of customs bonds?
Ideally, there are two types of customs bonds. You can choose one as per your business's needs and requirements.  
Single transaction customs bond: Otherwise known as single entry bond (SEB), this type of customs bond is only meant for one-time customs entry. You can also opt for this bond if you import low-cost goods that are limited in number. For instance, under the single transaction U.S. customs bond, you can only import less than four shipments annually.
Continuous customs bond (code 1): Contrary to the SEB, a continuous customs bond (code 1) is a self-renewing bond that covers all customs transactions happening through any port of entry of the country. This bond is also required if you're importing commercial goods that value more than $2,500. You can import high-value goods in large quantities and multiple times throughout the year. Additionally, the bond is only valid for one year from the day of its issuance.
4. What does a customs bond cover?
A customs bond serves as a document of assurance that all duties and taxes will be paid to the concerned authorities even in extreme circumstances such as bankruptcy, closure of the business, etc. You can face delays in the release of shipment(s) from the port to your destination or face fines if you do not have the right customs bond. 
If you're working with a licensed customs broker, you can use your broker's customs bond to secure your transaction.
5. How are customs bonds calculated?
Usually, the customs bond cost is calculated based on the duties, taxes, fees associated with the goods imported into the country. 
The cost of customs bond can also be calculated based on the types of goods you're importing and whether the bond is meant for single-entry use or multiple-entry use.
In case of single entry bone, the cost must be equal to the total value of the goods imported plus all fees, taxes, and duties. The minimum written value of a single-entry bond is $100. However, this may vary from one country to another.
Continuous customs bonds, on the other hand, are generally more popular among importers as they also cover ISF filing, which is required in the case of sea shipments and enables you to transact imports unlimited times in a year. 
The process of calculating the amount of continuous customs bonds is quite different from its counterpart. Rather than being calculated based on the total value of the goods, the amount is computed based on the estimated total duties, taxes, and fees for the next one year multiplied by 10%. The value would round up to about $10,000 approximately.