If you are an exporter in the United States, an essential step for your business is to determine whether an export license is required from the Department of Commerce to export your product or not. You can ascertain this by knowing if your product has a specific Export Control Classification Number (ECCN). There are certain products that can be sold overseas only by licensed exporters. First, let's understand what ECCN is:
What is the ECCN?
An ECCN — Export Control Classification Number — is a five-character alpha-numeric code, for eg. 3A001, listed on the Commerce Control List (CCL) to identify if a specific product can be sold overseas and if an exporter is subject to licensing rules.
It should be noted here that most of the low-technology consumer goods are designated ECCN EAR99 — meaning exporters don't require a license to sell overseas. However, if an exporter plans to export an EAR99 product to an embargoed country, to an end-user of concern, or in support of a prohibited end-use, you may be required to obtain a license.
An ECCN is different from the Harmonized Tariff System Codes or Schedule B number, which is used globally to identify products.
Read here: What's an HS Code or HTS Code in Global Trade?
All ECCNs are listed in the Commerce Control List (CCL) (Supplement No. 1 to Part 774 of the Export Administration Regulations), which is divided into ten categories, and each category is sub-divided into five product groups (refer to the tables below):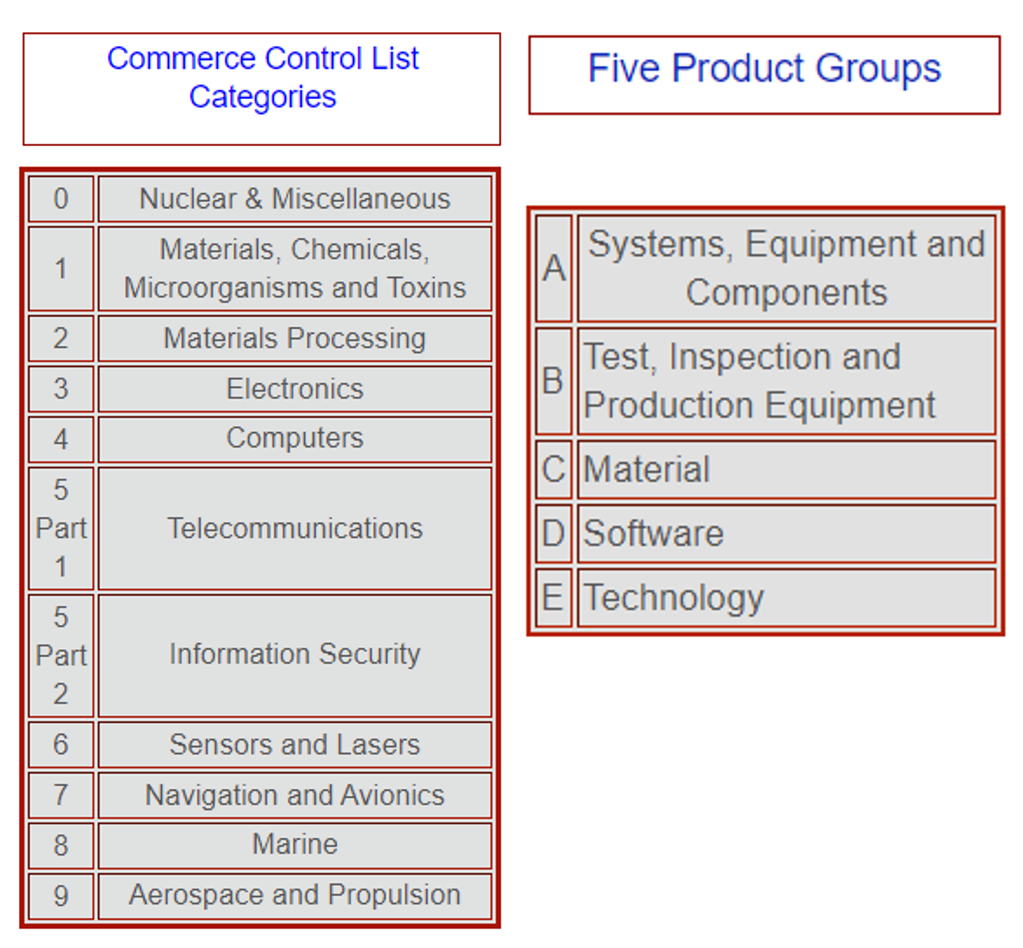 How to Find the Correct ECCN for your Product?
Here's how to find ECCN for your product in 3 simple steps:
Step 1: Go to https://www.bis.doc.gov/, click the "Regulations" tab to display the menu, and then click on Commerce Control List Index to access the file
Step 2: Look up your ECCN Citation (i.e. Index Number) based on the Description matching your item. You can search for your product's ECCN by doing CTR + F and entering your product keyword. Note down the ECCN Citation you think is the right one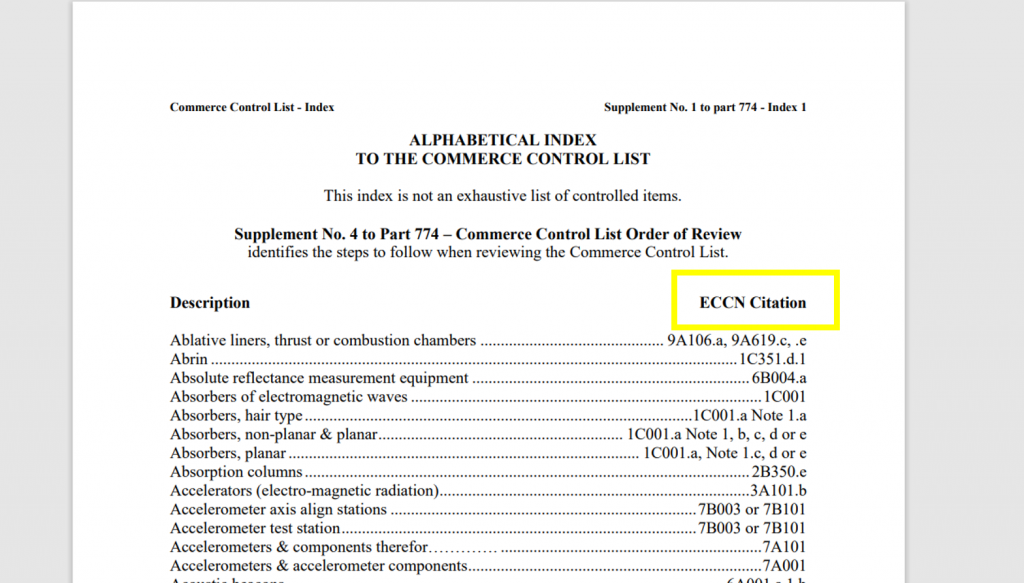 Step 3: Review the technical specifications for the product listed under ECCN Citation from the product categories and product groups. If the description matches your product, you have found your item's ECCN. If the description does not properly match your item then the ECCN Citation is incorrect. Go back to Step 2 and locate an alternative ECCN Citation. You may need to review and check more than one ECCN to find the correct one
Other Ways to Determine ECCN for your Product
There are 2 other ways for determining the ECCN of your product:
a. Check with the Source – You can contact the manufacturer or developer of the good you are exporting to check if they have classified their product and can provide you with the ECCN. However, ECCNs keep changing over time, therefore you should review and check the ECCN yourself to make sure it is the correct one.
b. Request an Official Classification from the Bureau of Industry and Security (BIS) – You can submit a product classification request online through the Simplified Network Application Process – Redesign (SNAP-R). Make sure you have your Company Identification Number (CIN) with the BIS before submitting your request on the SNAP-R system.
What If your Product is Not Listed?
After carefully checking your product against the CCL, if you are convinced that your product does not fit into the parameters of any ECCN, it may be designated as EAR99, only if it is not controlled by another agency. In this case, you may export your product specifying no license is required, as long as all the following criteria are met:
Hopefully, you now know what an ECCN is and why and when it is needed. Bookmark this blog if you want to know your ECCN or to know if you require a license or not for exporting a specific product.
In these times, it is essential to take all necessary steps to ensure that all products that are exported, be it the goods or software, are compliant for safety and security reasons. To stay updated on the latest trends in cross-border trade,